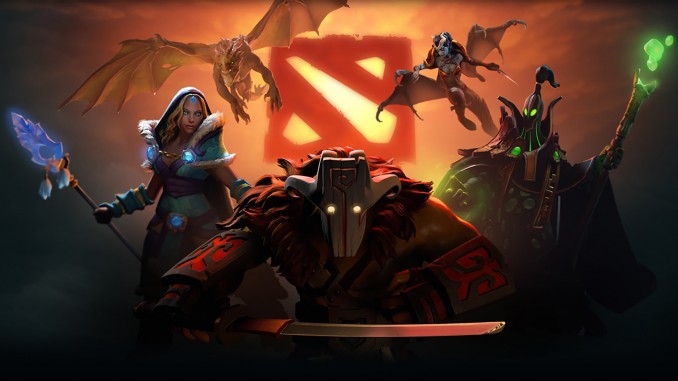 Even though teams are preparing for The International next month, the Dota 2 pro scene doesn't sleep. After a month-long Regular Season, the MPGL Asia Championship Grand Finals descended upon Khon Kaen, Thailand, with four teams battling to take a share of the $80,000 prize pool.
The participating teams were Keen Gaming, who were invited, along with three sides who had secured their place through the Regular Season of the MPGL Asia Championship – Execration, Clutch Gamers and EVOS Esports.
The semifinals begin
Pitted in a best-of-three double elimination format, Clutch were drawn against EVOS while Execration faced Keen Gaming in the semifinals of the MPGL Asia Championship.
EVOS started off strongly in the first game against Clutch, securing first blood and building off it, taking multiple pick-offs and Bounty Runes. However, one bad fight on 29 minutes turned the tie around and Clutch slowly stalled them out, eventually winning around the 50-minute mark.
Game Two was a lot more one-sided as EVOS were blindsided by a last-pick Broodmother, with Ahjit just taking over the game. This forced them into making bad trades and Clutch overran them, taking the win in 36 minutes.
The first game between Execration and Keen was also quite one-sided. While the early game was slightly in Keen's favour, once Karl's Tinker got going, he pressured them all over the map, giving Keen the ability to do little and forcing the GG on 27 minutes.
Game Two was probably the most even clash of the tournament thus far as the maximum gold lead for most of the game was a mere 5k. After a bad team fight for Keen on 36 minutes though, it didn't take long for Execration to push in, destroy the base and take the tie.
The Losers' Bracket
The next match was the first round of the Losers' Bracket, which saw Keen Gaming take on EVOS. Game One was a show of pure dominance from Keen as not only did they never lose their gold lead, two of their players didn't even die all game, with their mid player 荧 ending with an impressive score of 10/0/13.
Game Two was not as clean cut though as even though Keen constantly ganked EVOS's carry player ilLogic, keeping him shut down, they were making questionable plays and trading badly, even losing their gold lead on 22 minutes. Eventually they pulled it together though with a series of great fights, knocking EVOS Esports out of the competition with a 2-0 victory.
The Winners' Finals
In the Winners' Finals between Execration and Clutch, the latter never lost their lead and barely surrendered any objectives thanks to an incredible performance by Gabbi on Ember Spirit. He went 23/0/12 in the 32-minute game, making play after play, utterly destroying Execration and handing them their first defeat of the tournament.
Game Two was the polar opposite to the first, with Execration instead looking incredibly dominant. Taking the Ember Spirit for themselves, along with Mirana for Nando, they had a somewhat slower start, but their lead just kept increasing, hitting 46k by the end of the 52-minute match. It was at this point they had cleared out Clutch's base, thus taking the series to 1-1.
Game Three was incredibly one-sided, with Clutch taking an early lead. Their winning lanes then allowed them to zone out the enemy carries and make it almost impossible for them to contest any objectives. In the shortest game so far, Clutch took Execration down in under 23 minutes, securing a spot in the Finals and pushing Execration into the Losers' Bracket.
The Final Day
Just as the Winners' Finals had contained the shortest game, Game One of Keen versus Execration in the Losers' Finals was the longest, a back-and-forth slugfest over 64 minutes with constant fighting. Eventually, after taking down four enemy heroes, Execration were able to push in, kill Faceless Void and take the game.
Game Two was less to and fro, but still very bloody, especially with a surprise Bloodseeker in the midlane. While Execration kept a lead all game, they did falter at some points, almost losing the tie on 21 minutes. However, Keen's Death Prophet had been shut down by constant early ganks and had fallen behind too much to make a difference, enabling Execration to survive the scare and ultimately take the series.
The Grand Finals
Having been one of the MVPs of the tournament, Clutch's Gabbi kept on showing that he is such an impressive player in Game One of the best-of-five Grand Finals against Execration. He took Juggernaut and ran through the enemy, going deathless once again and enabling Clutch to take the first match.
However, it seemed that Execration were not easily put down. Game Two stayed incredibly even for 20 minutes, with neither team even reaching a 2k gold lead. However, one fight was all Execration needed to break through as they then started to take down objectives and heroes before pushing in for a 38-minute victory.
Game Three started off in Clutch's favour as they secured themselves a 6k gold lead inside 15 minutes after key kills on the enemy carries. However, like in the previous game, one fight was all Execration needed, taking down the enemy carry and giving them the room to play as they wanted. They then took down towers and won the game after some one-sided fights.
Game Four, like the previous one, started badly for Execration. Failed ganks and bad positioning allowed Clutch to take the lead, but even with Pugna, they were unable to take down any of the base towers. This setback allowed Execration to farm up and use Lycan to split-push while forcing fights to make Clutch lose either heroes or objectives. Eventually, the pressure was just too much, and Execration were able to push down the mid, win a few final battles, and secure the $40,000 first-place prize with a 3-1 series win.