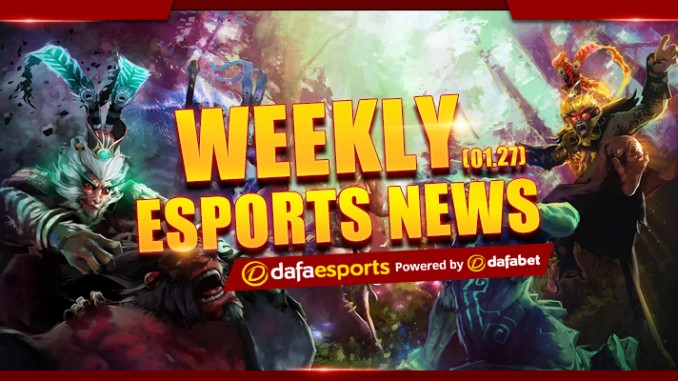 Welcome to the Weekly Recap, where we gather the top stories that happened in the past week to help you catch up with the busy world of eSports!
General News
Brazilian Ronaldo buys stakes in CNB E-sports
Brazilian two-time FIFA world champion Ronaldo de Lima has purchased stake from CNB E-sports club, according to myCNB.
The former Barcelona and Real Madrid player, along with Brazilian poker star Andre Akkari and Brazilian Series of Poker CEO Igor Trafane Federal, now own 50% of the e-sports organization, half of which still remain with founders Cleber and Carlos Fonseca, who still manage the group.
"Esports are a global trend and, in Brazil, are a fever. It's an impressive moment," said Ronaldo in his press release.
Dota 2
EG beat OG, win Dota Pit 5 finals
Evil Geniuses outlasted OG 3-2 in a delay-lengthened best-of-five final series in the Dota Pit League Season 5 at Spaladium Arena in Split, Croatia.
Due to technical difficulties, the ultimate series took eight hours to finish, with EG getting the win behind fantastic performances from Sumail "SumaiL" Hassan's Shadow Fiend and Artour "Arteezy" Babaev's Lone Druid in Game 5.
EG pocketed $62,937 as the champions, while OG took home $34,965 as runners-up.
NP names bOne7 as head coach
Team NP has announced that Pittner "bOne7" Armand will be the team's new coach.
bOne7 was a former Cloud9 teammate of NP founder and midlaner Jacky "EternaLEnVy" Mao and safelaner Kurtis "Aui_2000" Ling.
"I bring to the table a deep understanding of how my former teammates operate and think about the game. We share many memories in the past and I look forward to building something great together," said bOne7.
NiP returns to Dota 2
Ninjas in Pyjamas, famous for being one of the big names in CS:GO, has re-entered the world of Dota 2.
Early in January, syndereN and qojqva left Escape Gaming and is now confirmed to be part of the new NiP Dota 2 roster. They are joined by three other players, Era, Trixi, and H4nni, who are ex-Fnatic players.
Complete announcement from the NiP official website here.

LoL
Riot, Tencent to organize international event
Riot and Tencent have announced they will hold an international event this July but will not shorten or disrupt the schedules of the annual Summer and Spring Splits.
In a conference at the start of the new LoL Pro League season, both organization said the event is still in planning phase, and details need to be ironed out before releasing information.
The event can be a World-Cup like competition, or may involve teams from colleges across the globe.
CS:GO
ESL to host women's CS:GO in IEM
ESL has finally announced it will hold a women's CS:GO tournament during the 2017 IEM Katowice World Championships.
The tournament will have a $30,000 prize pool and will feature four invited teams and four qualifying teams.
Invites are yet to be sent out as of press time, while the qualifiers will start in January 28 for the first two European slots, and in February 4 for a North American and European slot.