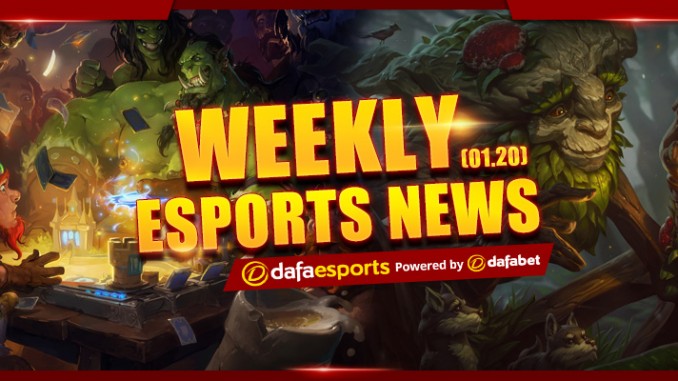 Welcome to the Weekly Recap, where we gather the top stories that happened in the past week to help you catch up with the busy world of eSports!
General News
WESG 2016
World Electronic Sports Games 2016 has concluded, seeing four champions rise above their peers and more than $5 million in prize pool getting distributed among the worthy e-sport athletes that graced the Olympic-like event at Changzhou City, China.
Phlippines' TNC Pro Team pocketed $800,000 in prize money after beating Denmark's Cloud 9 in the Dota 2 final, while France's Team EnvyUs beat Poland's Team Kinguin in the CS:GO championship to take home a similar amount.
Jun Tae "TY" Yang beat Cho "Maru" Seong Ju to win $200,000 in the all-South Korea final in the StarCraft2 division of the WESG, while the Philippines' Euneil "Staz" Javinas beat Denmark's Jon "Orange" Westberg to receive $150,000 in the Hearthstone competition finale.
Indian entrepreneur to invest more than $12M in e-league
Indian businessman Ronnie Screwvala will try to jumpstart esports in his country by investing between $12M to 15M to start UCypher, an esports league that will have divisions in PC, console, mobile gaming.
Screwvala, who has also tapped the local Pro Kabbadi League, said his team has already picked 10 out of 1,600 possible teams to play in the inaugural season, which will last 45 days and will probably begin in May. Usports, the team who handles the league, is in talks with local youth channels for coverage.
Before building Usports, Screwvala made his mark on India's media and entertainment industry with United Television Video Group, which was later sold to Disney.
Dota 2
DAC 2017
Dota 2 Asia Championship organizer Perfect World has released the teams participating in the regional qualifiers and the process that these organizations need to face to make it into the LAN event in in Shanghai in April.
According to the post, each region (America, Europe, Southeast Asia and CIS) will have eight teams battling it out in a two-phase, GSL-format elimination, with only the top two teams per region making it to the DAC 2017.
TI6 winners Wings have been invited to the event, as well as DAC 2015 winners Evil Geniuses. Three-time Major winners OG got invited too, along with Chinese team NewBee. Invictus Gaming, Team VG.J, LGD.Forever Young and iG.Vitality made it to the LAN through the China qualifiers.
Dota Pit League begins
Get ready for blood when the best teams in Dota 2 collide in the Dota Pit League Season 5 at Spaladium Arena in Split, Croatia.
Three-time Major winners OG, along with ESL One Genting winners Digital Chaos and TI5 winners Evil Geniuses headline the event, which will also feature strong teams like Team Secret and Virtus.Pro.
Uprising squads like Team Faceless and Elements Pro Gaming are also qualified, while Invictus Gaming, who recently underwent changes, look to shake up the Pit.
Gabe Newell's AMA
Valve co-owner Gabe Newell had an Ask-Me-Anything session in Reddit and once again left a cryptic message about Half-Life 3 but did say that his favourite Dota 2 patch 7 change was 6 treants.
Newell, who was in a meeting with other top honcho of his gaming business, also said they have already multiplied their Steam Support system workforce by five, but is still currently planning to improve the system.
For the full juice, check this link.
LoL
LoL North America just announced that it will partner with Big Ten Network for the inaugural BTN LoL Collegiate Championship.
This championship will feature teams from Big Ten schools, and the top teams will be pitted against LoL's own collegiate league – Campus Series.
Each team member from Big Ten schools will receive $5,000 in scholarship money.
Fnatic, Kinguin make it to EU CS
Fnatic Academy and Team Kinguin are now qualified for the 2017 EU CS Spring Split after trouncing their respective opponents in the final of the qualifier.
Fnatic Academy thrashed Team Forge 3-0, while Kinguin destroyed Nerv in a similar scoreline. Both team were second seeds in their respective groups before the playoff.
FC Schalke, Millenium, Misfits Academy, and Paris St. Germain are the ones to first reach the EU CS Spring Split.
ESPN survey: 27% of players opposed to female pros
An ESPN survey of 33 unnamed NA and EU LCS pro players showed that 27% of them would have reservations about having female players in their respective teams.
One answer cited that problems could potentially arise if a male and a female teammate got in a relationship and affect team chemistry.
"If one of my teammates could be attracted to that female player, then I'd be opposed to it," said one answer.
CS:GO
Audi sponsors Astralis
German luxury car maker Audi has dipped its feet on the growing world of esports as it has become partners with Astralis.
Astralis made the announcement on Twitter and confirmed it with The Score.
Many big time brands are already entering the world of pro gaming, but Audi is the first luxury car maker to do so.
Flipsid3 dominate DreamHack Leipzig 2017
Flipsid3 Tactics trampled on the competition to become the champion of DreamHack Leipzig 2017 and take home $50,000 as prize money.
Team FT did not lose any map, finishing 2-0 in the group stages before destroying LDLC in the semi-final and team BIG in the final.
BIG went home with $20,000 as runner-up, while Heroic and LDLC got $10,000 each.
Overwatch
Next Generation Esports has announced that PAX South will be the home of Overwatch Winter Premier final this coming January 27-28.
NGE CEO and co-founder Andy Vander said bringing the final to the San Antonio, Texas arena will showcase Overwatch talents to a broader market.
"The Winter Premiere was designed to highlight the best talent of Overwatch in North America. It's only fitting to bring these all-star teams to the PAX Arena stage, where their effort and talent can be celebrated by an even wider audience."