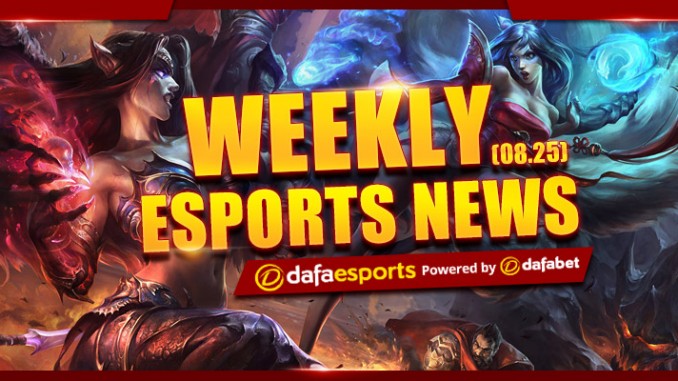 Welcome to the Weekly Recap, where we gather the top stories that happened in the past week to help you catch up with the busy world of eSports!
League of Legends
SKT scrapes past KT, one win away from making Summer Split comeback
SKT T1 might have taken the longer route, but all the same, LCK's most dominant team is now in the Summer Split final after turning KT Rolster back 3-2 in the semi-final.
KT quickly erected a 2-0 lead in the series, but fantastic performances from Faker and Bang in Game 3 spurred a reverse-sweep for the three-time world champion and now SKT will face top seed Longzhu Gaming in the ultimate stage.
SKT, who entered the playoffs as the fourth seed, is favored to beat LZ in the final as the team is in great form with three series wins in the playoffs, and are 8-2 in 10 maps in the knockouts.
Bottom laner Deft starred in Games 1 and 2 to help KT dominate the first two games, when he had a KDA ratio of 10.5 and KT had an average lead of 11 kills in the kill count.
But Bang, Faker and support Wolf found their form for SKT in Game 3, when Faker and Bang combined for 11 of the team's 16 kills using Corki and Tristana, and Wolf had a hand in most kills with 13 assists on his Rakan.
Fnatic, Misfits clash for EU Summer final spot
Misfits completed a stunning sweep of Unicorns of Love 3-0 in the EU LCS Summer Split quarterfinals to set up a clash with Group A top seed Fnatic in the next round.
Bottom laner Hans Sama carried Misfits for most of the series with his performances on Tristana, averaging 15.3K net-worth on all three games with a KDA ratio of 18.3 per match.
IgNar also starred for Misfits in the support role, averaging 14 assists with class and versatility using three champions on three games: Blitzcrank, Rakan and Thresh.
In the other bracket, G2 Esports outlasted Splyce 3-2 in the quarterfinal to set up a clash with Group B top seed H2K Gaming in the other final four fixture.
Game 5 between G2 and Splyce was a rollercoaster ride, with four lead changes in networth and momentum.   Top laner Expect (7-3-7 KDA) on Jarvan IV and support mithy (1-2-10 KDA) on Alistar led G2 for most of the game, though bottom laner Zven had a nice performance with a 3-2-8 KDA on Ashe.
Dota 2
Post TI7 Roster Shuffle
Philippines-based TnC Pro Team has announced it will not undergo roster changes this offseason and will keep the quintet that finished 9th-12th in the International 2017.
In a tweet, the 2017 WESG champion said: "If you want to go fast, go alone, if you want to go long, go together."

Across the West Philippine Sea, WarriorsGaming.Unity remodeled its lineup and will now feature an entirely different group of players who came from different countries. The WG.U flag will now be flown by Carry Meracle (Singapore), middle laner Feero (Jordan), offlaner Velo (Australia), support/captain sQreen (Russia) and support Flysolo (Philippines).
In NA, Cloud9 did the expected and dropped its roster from TI7, meaning all guys from the former Team NP are currently without teams.
C9 CEO Jack Ettiene said in the Reddit thread that contrary to popular belief, the org did not take a paycut from the team's winnings in TI7 and just supported the team throughout the tourney.
DreamLeague Season 8 to be a Major
In accordance with Valve's new point-oriented format in the upcoming season, event organizer DreamHack has announced that the eighth season of DreamLeague will be classified as a Major.
Under Valve's new rules, any event that wants to be included in the points system should have at least $150,000 in prize money for a Minor tourney, and at least $500,000 for a Major, then Valve will double the minimum prize pool.
As a Major, DreamLeague will have $500,000 in prize money from DreamHack and another half million from Valve.
It also needs to have an online qualifier from each major region – Europe, CIS, North America, South America, China and Southeast Asia.
The eight teams (four from EU and CIS region and one each from other regions) who win the qualifiers will be pitted against each other in Jonkoping this December 1 to 4.
Counter Strike: Global Offensive
C9 grabs ESL One New York spot
Cloud9 bucked a nerve-wracking start and went on to plough its way to winning the ESL One New York qualifier.
The famous org lost its first map to relatively unknown L40rg 9-16 in Nuke but regained its composure and won the last two maps – 16-5 in Train and 16-9 in Cache – to set up a semi-final clash with compLexity Gaming in the final four.
C9 looked better in the semis, as it dominated coL 16-7 (9-6, 7-1) in Inferno and fought back to win in Train 16-12 (5-10, 11-2).
Against Rise Nation in the finals, C9 choked in Map 2 in Mirage but reeled off to a hot start in Map 3 in Inferno, where they won 16-2, with 13 wins coming in the first 15 rounds.
Overwatch
Reports say that the New York franchise of the Overwatch League is in the final processes of signing the roster of Korean team LW Blue.
According to ESPN's Jacob Wolf, the sale of the roster "has been negotiated over the past few weeks" and that 'once the deal is done, LW Blue will temporarily relocate to Los Angeles", where the inaugural season of OL is slated to be played.
LW Blue is the second APEX side to be bought by an OL team, as the Seoul spot's owner KSV Esports signed a deal to acquire the players of Lunatic-Hai.