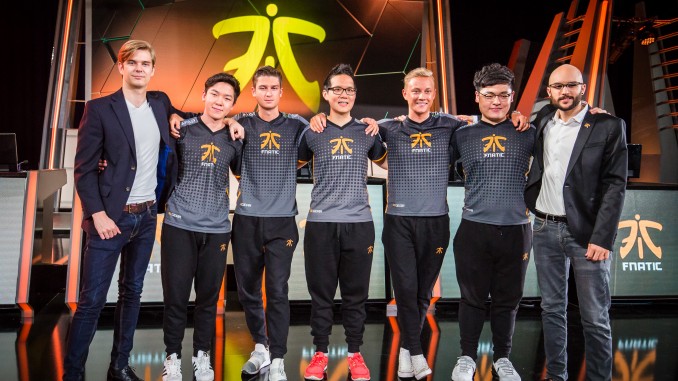 Continuing the same variance at the top of Counter Strike with which 2018 has begun, Fnatic made an incredible run to become champions at the IEM Season XII World Championship in Katowice, Poland.
Fnatic rise to the top…
Fnatic have been on the rise as of late, continually playing well online while doing pretty well at most offline events too. However, until now the team was not viewed as likely to go far in the final stages of tournaments, given their fairly recent rise coupled with their inability to produce against top tier competition.
Starting off in Group B Fnatic quickly dispatched Heroic 16-9 in a best-of-one before squaring off against G2 Esports in a best-of-three. This is the type of match in which Fnatic would have previously faltered, with G2 performing incredibly well in group stages recently. Fnatic prevailed with an impressive 2-1 victory, however, and this saw them placed against FaZe Clan, arguably the best team in the world, in the Upper Bracket Finals.
…And stun FaZe Clan and Team Liquid
This is where it appeared to look like a different Fnatic squad, as they defeated FaZe in an incredible 2-0 fashion. Experts still remained tepid about believing in Fnatic, particularly given their history of coming up short when the lights shine the brightest, but their dominant displays on Inferno (16-11) and Cache (16-8) were a sign of things to come.
Next up for Fnatic was the semifinals of the Playoffs as they received a bye for winning the Upper Bracket Finals. They were pitted against Team Liquid, arguably the hottest team in all of Counter Strike, yet not only did Fnatic claim the win, they did so in convincing fashion with another impressive 2-0 scoreline.
A pattern had now begun to develop with Fnatic, with a revitalized flusha and KRIMZ looking all but unstoppable.
A rematch beckons
The Finals were a rematch of the Group B Upper Bracket Finals, with Fnatic finding themselves once again pitted against FaZe Clan. This was a best-of-five series, which started off in ugly fashion for Fnatic, with FaZe blowing them out of the water on Cache 16-5. Even through illness, rain had a brilliant performance with 23 kills in the 21 rounds played for FaZe.
The second map required double overtime in order for a winner to be determined, with Fnatic finally pulling away with a score of 22-20 on Inferno.
Fnatic carried this momentum into Overpass, the third map. This was arguably their most impressive victory of the tournament as they secured a resounding 16-7 win. Once again flusha led the way for Fnatic, this time with 25 kills in just 23 rounds of play.
Mirage, map number four, saw a return to form for NiKo, who has struggled in recent finals for FaZe, especially the last two. However, here he paved the way for a 16-11 FaZe win with 29 kills, six higher than the next closest competitor on the server. This set up a do-or-die final map.
Finale an instant classic
Train was the fifth map and it was an instant classic, with flusha once again coming up big for Fnatic. With Fnatic barely edging a lead at 13-11, flusha pulled off an incredible play. In a 2v5 scenario, flusha aced FaZe, resulting in Fnatic securing win number 14. However, FaZe mounted a comeback and pushed all the way to match point at 15-14 before flusha stepped into the spotlight once again. Not only did he ace FaZe for a second time, but the final two kills came in a 1v2 with fairly limited resources. This forced overtime, where Fnatic pulled off a 19-17 win in the final round to secure the championship.
The key takeaways from this event were the return to form of KRIMZ and flusha, with the latter receiving MVP honours, coupled with the continued struggle of FaZe in finals. Whether or not flusha and KRIMZ can maintain their form is up for debate but given the uncertainty of the top tier of Counter Strike, it certainly is possible.
For FaZe, an inability to close out finals, which they have now failed to do four out of five times in Premier events, is an incredibly worrying trend. Given FaZe continue to make finals, it is unlikely that any roster changes will occur, but should they keep slipping up, a move could be justified in order to fix this issue.