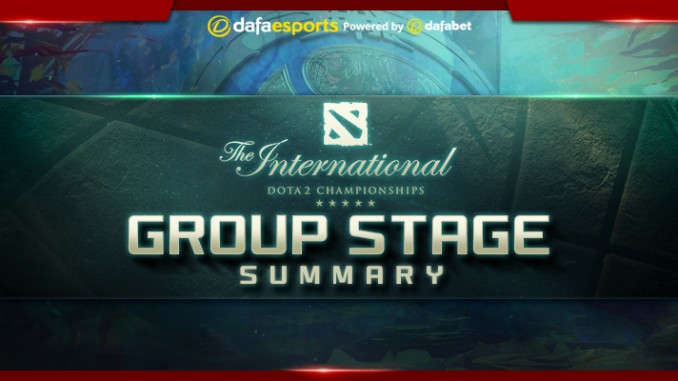 TI7 has begun at last and promises to be a thrilling watch for all fans of competitive Dota 2.
Featuring the world's most highly-seeded pro teams and with a staggering total prize pool of just under $24 million as of this writing – the biggest prize pool of any eSport, surpassing TI6 by $3 million – the prestigious Major will certainly be worth the attention of fans worldwide.
Format
With the Group Stage of the tournament now concluded and the double-elimination Playoffs set, we have an opportunity to assess the teams and see who might reach the final four, represented by the Upper and Lower Bracket Finals.
The Group Stage was straightforward – 18 teams were divided into two groups of nine, who played in a best-of-two round-robin format over four days. A 2-0 win gave two points, a 1-1 draw gave one point while a 0-2 defeat delivered nothing. The very lowest ranked teams from each group were eliminated, with the top four advancing to the Upper Bracket. The teams which finished in places 5-8 were placed in the Lower Bracket.
Results
Fnatic (2-14) and HR.Dota2 (1-15) were dumped from the tournament as they were unable to pick up any series wins during the round-robin phase.
The teams qualifying for the Upper Bracket were Liquid (13-3), LGD (12-4), EG (11-5) and TNC (9-7) from Group A and LGD.FY (14-2), Newbee (11-5), iG. (10-6) and Virtus.pro (10-6) from Group B.
With their impressive results, any one of these teams have a strong claim to the top prize, but it would be wrong to overlook the Lower Bracket – after all, the winner from here does get a place in the Finals, although it's certainly a harder route than from the Upper Bracket. The Lower Bracket teams are Team Secret (7-9), iG Vitality (7-9), Team Empire (6-10) and Infamous (5-11) from Group A, with Group B being represented by OG (9-7), Cloud9 (6-10), Digital Chaos (6-10) and Execration (5-11).
The four days of Group Stage action had quite a few exciting matches and tense moments. In Group A, Team Liquid's match against LGD Gaming saw a controversial Monkey King pick by Miracle-, the first use of the character in the entire tournament. Sadly, the gambit failed to pay off despite the player's best efforts, leading to a loss for Liquid.
Meanwhile, despite their low score, Fnatic managed to earn respect in an action-packed match against Infamous. It was an absolute warzone of a game, with nine kills between both teams at only the three-minute mark.
Group B had its fair share of action too, of course, with a particularly nail-biting bout between Digital Chaos and OG. The two teams went back and forth, with OG making a comeback to tie the series up despite the incredible gameplay from mason and Abed for Digital Chaos.
Predictions
Looking at the Group Stage tables, it's clear to see who the favourites are heading into the Playoffs. Team Liquid and LGD.FY topped their groups, with both teams having not sustained a single series loss thus far. The Chinese team are leading the whole tournament in that regard, with an impressive 6 series wins and 2 draws to their name.
Although Liquid finished with one fewer point than LGD.FY (with 5 series wins and 3 draws), their position as number one team globally should not to be overlooked. With such strong performances by both teams, it's hard to imagine them not reaching the final four.
Although the Lower Bracket is not to be neglected, it's exceptionally difficult for a team that begins in the lower half to make it all the way to the Lower Bracket Finals. OG are the most likely team to manage it as they failed to qualify for the Upper Bracket by just one point but remember that the losers from the Upper Bracket will continually drop into the Lower Bracket as the tournament progresses.
This means the remaining two entries for the final four are likely to come from the Upper Bracket. Newbee have enjoyed strong form this year, recently winning the ZOTAC Cup Masters and Galaxy Battles Premier events, and placed second in Group B. Although the team haven't had the greatest consistency in the past, their performances of late are on point. Despite this, they have failed to place highly in previous Internationals so question marks remain.
LGD were just ahead of EG in Group A and have beaten Group B leaders LGD.FY in the past, most recently in the final of the Mars Dota 2 League 2017. This puts them in a good position to go all the way. Meanwhile, Manila Masters winners EG have shown impressive displays, failing to lose any bouts thus far, although they have drawn 5 of their 8 series. If they can garner a killer instinct, the lone American team have the potential to make it to the Finals.
Consequently, although it's difficult to pick between such formidable teams, we think that Team Liquid, LGD, LGD.FY and EG will be the final four left standing.
Conclusion
The Group Stage games have offered quite a few incredible spectacles so far, but as the tournament goes on and the stakes grow higher, things will only get more exciting from here. Whether or not these predictions will be accurate remains to be seen, but it'll be a lot of fun to find out.