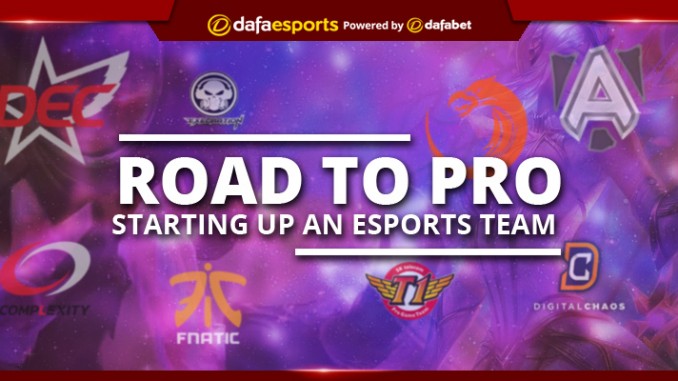 The growth of eSports has led to the emergence of new teams in almost every game as there are now more players than ever reaching for the top and all the glory that comes with it.
This comes as no surprise as games such as Dota 2, League of Legends and CS:GO now offer the chance for teenagers to become millionaires – a prospect that only a few traditional sports can offer.
Reaching the top is an extremely difficult task and it is even more challenging to stay there. So this begs the question: How does one build and maintain a successful eSports team?
Depending on your budget, there are two clear paths:
Grow organically by recruiting young talent and gradually developing the organization by first winning small tournaments before moving on to bigger ones, or
Buy your way in by signing established names, getting into the big time immediately.
Regardless of the path taken, however, there are several components behind the success of an eSports team. These include:
Players
The bread and butter of a high-achieving team is quality players. If you are new to the eSport, signing the right names could be a difficult task, but there are two main ways to get players:
Recruiting established names – with the growth of eSports, there are players who have established themselves as authorities in their respective game and getting such players in your team would be quite an acquisition. However, luring them to a newly established team is incredibly difficult unless the incentives are high enough or the team project is ambitious enough to attract them.
Scouting prospects – very few players get noticed, but there is plenty of undiscovered talent out there and so targeting players who have not yet become professional is a viable option. Searching for fresh talent can be both laborious and hit-and-miss, but the payoffs would be great and easier on your budget should you succeed.
Additional staff
Provided you have already taken care of the roster, there are some other essential roles that are required if your team is to develop.
Manager – broadly speaking, a manager is a multi-tasker who would be responsible for handling internal and external affairs. Managers in eSports usually take care of securing sponsors, organizing trips for the players, taking care of the PR and social media stuff, and serving as both a motivator and mediator for the players when things are not going well. The best choice for such a position is a person who has already had some experience in eSports.

Coaches – it took a while for the role of coach to be adopted in eSports as the vast majority of top pro gamers are self-taught, and thus reached their high skill level on their own. There is no established academia in eSports, so coaches are either former or temporarily inactive pro players – ones who have been successful, but for one reason or another are currently free agents. The role of a coach in each eSport can vary – in CS:GO coaches have a more active role as they communicate with the players while they are playing, but in Dota 2 they have more of an analytical role and research enemy teams, pointing out flaws in the current strategy and style of play and subsequently suggesting ways of improvement.
Note that in some teams the coach and manager are the same person.
Gaming house
The concept of the gaming house came from South Korea as StarCraft teams were the ones that introduced this successful method of team building. In essence, players would live and play in shared accommodation for a period of time. Gaming houses help players remove distractions and allow them to focus solely on improving their play. Eating and spending time together out of the game also helps players to bond and develop a relationship, which has proven to be an important factor in eSports. Sustaining a gaming house can be financially demanding but worst case scenario the team would need to have at least a boot camp before major events if the chance of success is to be optimal.
Sources of revenue
Large as they are, prize pools alone are not sufficient to sustain a team for a long time. Even the most successful teams have dry spells and when money is running thin, you don't want your players to look for other opportunities. External sponsorship is by far the most prevalent source of income for pro teams and the industry in general and so securing a sponsor is essential. The most common sponsors in eSports are computer hardware companies, energy drinks and lately gambling sites.
Final thoughts
Building a successful team in the world of eSports is quite a hard task. A lot of teams are created, but only a handful manage to survive and become successful. Disbandment happens quite often as lack of success or a bad streak of results is often never far away and the lifespan of a pro-eSports player is typically quite short.
Some teams run for the big money and then disband, having won a significant amount, so even sustaining a roster when a team is successful can be a challenge. Nevertheless, with the growing eSports industry, more teams nowadays not just emerge, but tend to stay on the map for longer, and so forming one is a worthwhile endeavour if you can avoid the pitfalls.