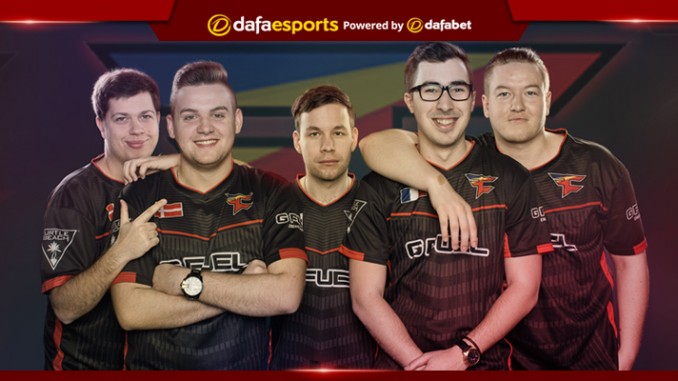 The penultimate week in the CS:GO EU ESL Pro League Season 7 brought further clarity in the overall standings as some teams battle for Finals places and others aim to avoid relegation.
FaZe Clan do well
FaZe Clan had a surprisingly good week, boasting an overall 5-1 record over their three series against HellRaisers, Fnatic and LDLC.
Major questions surrounded FaZe after the sudden announcement of olofmeister's absence due to personal issues, with Xizt stepping in to fill the void. The primary concerns arose over whether Xizt could perform at an optimal level given his massive decline in play before he was removed from the Ninjas in Pyjamas line-up. However, both FaZe and Xizt passed the first test, with their highlight of the week being a 2-0 win over a quietly dangerous HellRaisers squad.
The other results were about as expected, splitting with Fnatic, who have made that a trend recently, before crushing LDLC to close out the week.
Fifth-placed FaZe's only match-up in the final week of play is against current top side Space Soldiers, with all eyes on this clash to see whether they can rise to the challenge.
NiP slip up
The most obvious disappointment this week were NiP, who went 2-4 against three opponents they were massive favourites to overcome.
Previously looking like one of the teams to beat, NiP stumbled out of the gate this week with an opening 0-2 defeat to one of the worst teams in the league; EnVyUs. Somehow the downswing continued, with a 1-1 split against both LDLC (the last place team) and continually weak North. These are all teams the Ninjas were expected to blow out of the water, with concerns now rising for their form heading into the Finals.
The last week of the season will be incredibly interesting for current second-placed side NiP, with fourth-placed Astralis, arguably the team that have flashed the highest potential during Pro League, on deck.
Astralis one to watch
Speaking of Astralis, they had a bit of an odd week, initially defeating top team Space Soldiers 2-0 before falling to Na'Vi 0-2. Astralis have looked better than anticipated since the addition of Magisk to their line-up, with their overall cohesion and consistency on the rise. However, a loss to the likes of Na'Vi, who continue to have major issues with any form of consistency outside of s1mple, is a bit disappointing.
The Danes still remain one of the favourites to win the competition though as they are able to prey on recent roster transactions for the likes of FaZe that may need prolonged time to promote synergies. Look for Astralis to have an impact when the Finals begin shortly after the conclusion of the regular season.
AGO fall back to earth
Another team with an unfortunate week were 13th-placed AGO Gaming who, after an incredible Week 5 that saw victories over Astralis, HellRaisers and mousesports, fell back to earth with a soul-crushing 0-4 run against North and EnVyUs.
AGO appeared to have put everything together, getting through their most difficult schedule while having fairly weak and struggling teams ahead of them. Even more concerning than the losses themselves was the manner in which they occurred, with AGO only grabbing upwards of 10 rounds a single time in the four games. Such one-sided affairs showcase how wild their previous week's effort was, but their strong Week 5 is still giving them hope they can have a better showing against Fnatic and Heroic next time out.
Fnatic consistently inconsistent
That Fnatic squad is coming off three 1-1 splits this week, with an almost perfect showcase of their inability to maintain consistency. Fnatic somehow managed a 1-1 with FaZe Clan between splitting with lower tiered teams Heroic and EnVyUs. This has been the case for Fnatic ever since the proposed removal of Golden, which now appears to be cancelled due to their strong performances in back-to-back tournaments elsewhere. The future looks more uncertain for Fnatic than perhaps any other team in the league given their recent successes, which have been immediately followed by wild inconsistency. It is this which sees them sit 11th in Pro League and under threat of relegation.